In October 2010 a group of 11 travellers went to Northern India, some of them especially to visit their sponsored children. Renate Kümmel has written a report about it, of which excerpts are shown in the following (English translation by Roman Bansen):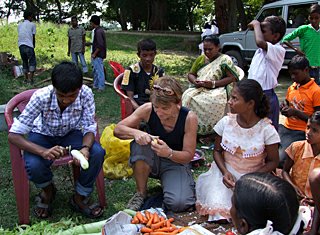 We are being welcomed warmly on the campus with little flower bouquets. After some smaller snacks we stroll through the town and get a few balls and games for our trip with the children tomorrow. Our "half Indian" Basti has left early on the next morning, to pick up the children from the sponsorship programme in the vicinity of Chaibasa.
Everything has worked out well, the children are here. I finally get to know my sponsored child Hemlata. A girl like a light breeze, so fragile – but surely tough as well – with a serious and sad look on her face. The children (altogether 38 of them) are being brought to the picnic area by jeep and the required items by truck. We are the last ones to arrive, people are already working diligently … cleaning vegetables, peeling potatoes etc. I join and help them, others play football or badminton with the children, amongst others.
The fireplaces are set up. We are astonished on how all of this works with the most primitive means and how it all boils down to a delicious meal in the end. We eat together with the children and are amazed by the huge portions that are eaten by all of them, no matter if girls or boys. Who knows when will be the next time they can eat as much as they want?! After the meal we distributed some sweets. The children were standing there staring with open mouths and were so happy about such small things like pencils, erasers and candy.
The wrapping however was thrown to the ground, which we of course could not indorse. So we motivated the children in a playful way to pick up all the paper packaging laying around. The children did actually really enjoy to put everything they could find into our garbage bag. The day went by extremely fast and eventually we started to clean up. The remains of the food go to the numerous dogs having showed up by now. Everything else is loaded onto the truck, only the garbage bag does not fit inside and is thrown into the bushes!!!
It has been a very nice, eventful day with lots of gleaming children's eyes, even Hemlata's eyes were gleaming from time to time! […]
The full travel report (in German) with additional photos can be downloaded here: Reisebericht Stipendienprogrammreise 2010 (PDF)