From 21st Oct to 8th Nov 2009 a small delegation of students and teachers from the Tagore school in Berlin Marzahn and the first chairperson of the Indian Forum, Heike Haupt, travelled to various locations in Jharkhand and West Bengal. Their guides in India were Alexander Nitschke, Sebastian Keller and Mukut Bodra. Here come a few excerpts from a students report in the school newspaper of the Tagore school, regarding the stay in Chaibasa (English translation by Roman Bansen):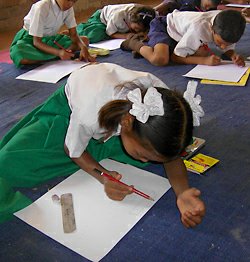 On the next morning we were welcomed with an official reception of almost 3000 students. It was an amazing and touching moment, when so many faces smiled at us and cheered when we introduced ourselves. We were even so *famous*, that we had to give autographs into the exercise books of the Indian students. On the same afternoon we went on a bicycle tour with about 100 students from our partner school to a lake called Lupu Gutu, the not even 5 km away. […] It was a very nice trip, as we were able to speak even with the younger students in English and got to know a lot of the landscape around Chaibasa.
Another pleasant experience was the possibility to visit classes of the primary, middle and high school on the next day. The youngsters in the primary school were very curious and had lots of questions. They were interested in our lives in Berlin, in our everyday school life and in our skin colour, but also the teachers wanted to know how the lessons are structured in our school and what we think about their way of teaching.
We organized a painting competition and a sports day for the students of our partner school. Three students from each class took part in the competitions. Former students of the school supported us a lot in the preparation and implementation of these events. With watercolour, wax crayons and coloured pencils the children started enthusiastically into the painting competition. They needed some guidance however, especially in dealing with the watercolours, as the children don't have any arts or music lessons as we were told. Nevertheless some excellent pictures were created on the topics "friends and family", "the life in my village" and "my dreams for the future".
And so a week in Chaibasa came to its end – much too fast we had to say good bye to our new friends. We will miss the evenings in which we often talked to them and laughed with them until late at night. And of course we will miss the children, with their smiles and laughs and liveliness. We shall also never forget the meeting with our sponsored children.