For 19 days, from 25th November until 13th December 2013, a group of 12 students and teachers of the Tagore School travelled to India, accompanied by our member Sebastian Keller, to visit their partner school in Shantiniketan in the Indian state of West Bengal. In the following, a short excerpt from one of the participating Tagore students' report is presented (English translation by Roman Bansen):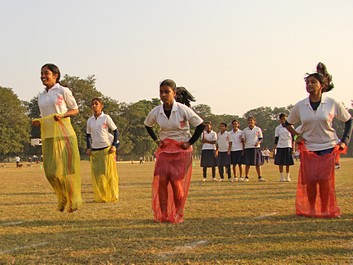 The Visva Bharati University and the Patha Bhavana School are works created by Tagore himself and they both operate according to Tagore's philosophy. So it is, for example, completely normal to hold the lessons outdoors, which I personally enjoyed a lot, found it very authentic, and it gave us to a deeper understanding of Tagore's way of life. Beside the Patha Bhavana, we also got to know numerous villages, for example the Santal villages.
But most of the time we were occupied with our projects and the students in the school. Every morning we were looking forward to go back to the school and see our friends again. This way the day for the farewell came closer day by day. After 10 wonderful, eventful and enjoyable days we had to leave the school and Shantiniketan and go by train to Kolkata. On the day of departure I realized how dear the girls and boys had become to me and how much I would miss all of them.