In autumn 2006 there was a students journey to Chaibasa again. We want to point out at this point, that the journey was financially supported by ASA EPJA and the BMZ, for what we, the Indian Forum "Mahatma Gandhi", want to say thanks once again.
In the following a short firsthand report by Linda Hübner (translated into English by Roman Bansen):
In autumn 2006 we, five students and two teachers from the Mahatma Gandhi School, went on a big journey to India. In almost three weeks we travelled to the cities of Delhi and Varanasi and visited our partner school in Chaibasa.
Already at our arrival in the metropolis of Delhi we got a feeling for what the Indian way of life is like. Everything was new for us in hectic and noisy Delhi. Unknown food, exciting rikshaw rides, sightseeing in Old Delhi and non-stop hustle and bustle.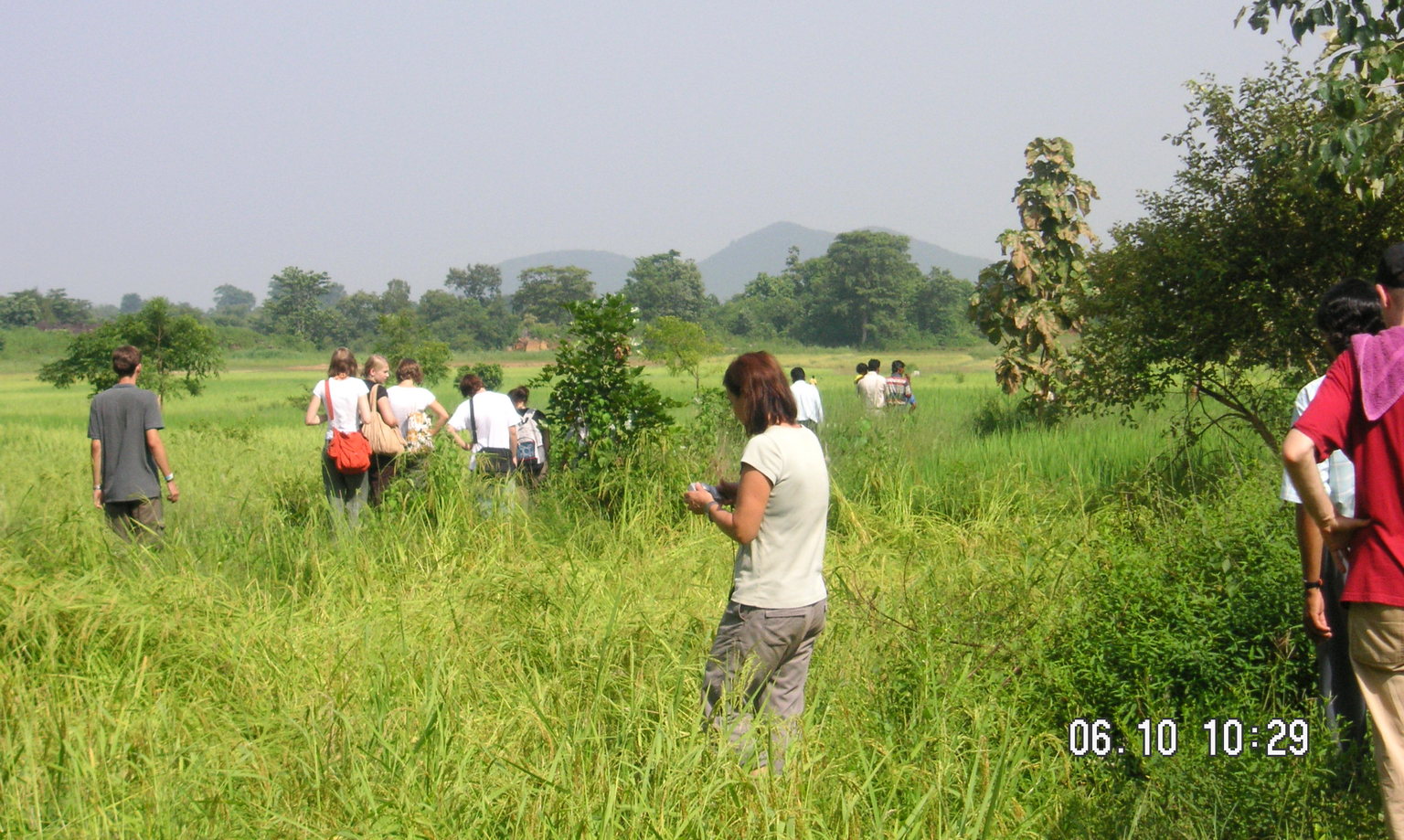 Excursion into the rice paddy fields
During the following 30 hour train ride to Chaibasa we had enough time to work through the first impressions. But when we arrived in Chaibasa after this long journey, there was no time to rest again. The church community was just celebrating a festival, to which we were invited immediately.
In the following days we explored the city and visited the different schools of the Lutheran Compound. Everywhere we were welcomed very warmly and the students peppered us with questions about Germany.
One highlight was our cycling tour to an Adivasi village, in which we got insights into the culture of the native inhabitants of India, that was totally unknown to us until that day.
While our arts teacher Mrs Seifert organized a painting workshop with the Indian children, we investigated and worked on location on our projects ("Women in India", "Water and Environment in India" and "Religions in India") within the framework of the financial promotion program.
Every day we were pampered with typical Indian meals by our hosts and we spent the evenings rehearsing our performances for the Indian German cultural programme, which was to become the crowning finale of our visit.
The end of our journey to India was the stay in Varanasi. At dawn the holy city at the banks of the Ganga river showed itself from its brightest side, so that it was really hard for all of us to go back home.