In autumn 2005, once again a group of students from the Mahatma Gandhi School visited the partners in Chaibasa. During this journey the preparations for the first year of the sponsorship program reached the final stage. Some impressions of this journey will be described in the following text from Heike Haupt (translated into English by Roman Bansen):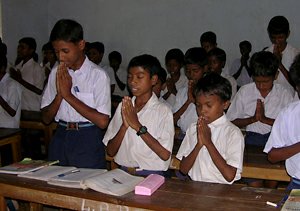 After a short city tour in Delhi we took the train to Ranchi, from where we went on via road to Chaibasa. There we arrive in the middle of the night and first of all came to realize, that we had to deal with a totally new quality of darkness here. We were lucky if we could see our own hands. Fortunately people with candles came immediately to help us find our way.
On the next day the official welcome celebration of the schools of the Lutheran Compound was held. With singing and dancing we were led to the put up festival tent, where we handed over the presents for the hosts after a short introduction. Afterwards we got a first glimpse of the Indian culture, as the students made our day with creative performances. Suddenly we were asked to get active ourselves. After exchanging some glances, longing for help, and after some whispered agreements the Indians finally got to hear some German songs.
During our stay we were invited by all schools on the compound and visited many church communities in Chaibasa and the surrounding area. Furthermore we helped in the cultivation of a field on the school or respectively church compound, which were to be used for the practical biology lessons. We also handed over painted T-shirts from our German students and animated the Indian students to let their creativity play on other Shirts that we had brought with us, so that we could bring them home to those students that were not able to come with us to India. With the help of our Indian friends we explained the use of the microscopes, which we had also brought over from Germany.
We did not only visit the schools and churches, but did also explore the hilly landscape of Jharkhand, which is covered with forests, as well as the lively markets of the towns and cities. Finally we completed our visit with a German Indian cultural program, that we had initiated.