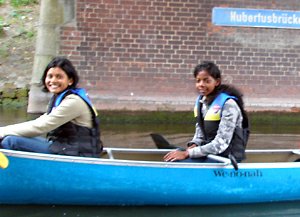 After a three year break, we finally managed to get a group of Indian students, teachers and priests to Berlin again in 2008. So there were six Indian friends staying in Berlin Marzahn from the 29th of May to the 21st of June 2008 as guests of the Tagore School, the church district, the Ecumenical Forum and of course the Indian Forum: three (former) students of the Lutheran Compound Chaibasa, two priests and one teacher, three women and three men.
During the week their accommodation was the 'Haus Pro Social' at the Blumberger Damm in Northern Biesdorf. On the weekends the guests stayed in different families.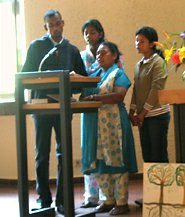 Besides many days at the Tagore School, a bunch of trips and tours was also on the plan of course. Amongst other things, the sewage works in Wassmannsdorf has been visited, the concentration camp of Sachsenhausen, the German parliament and the Chorin monastery. A two day trip to the Spreewald (Spree forest), including visits at the Sorbs and at an open pit mine for brown coal, could also be realized. In addition the group got to know Berlin from all of its good and bad sites.
But above all, there was enough time for interpersonal contacts. Every minute of 'free time' apart from the tight program was used for meeting old and new friends and on the weekends private trips were organized, for example to the International Aviation and Space Exhibition, to Martin Luther town Wittenberg or to do a canoe tour.